---
Next
Previous
Up
Contents
Next:
Web Browsers
Up:
Activation Window
Previous:
Image Viewer Applications
---
If you choose the View URL as Spectrum option in the Activation Window, then activating a row will display a spectrum in a spectrum viewer.
The default spectrum viewer is SPLAT, a sophisticated multi-spectrum analysis program. This requires the presence of a component named JNIAST, which may or may not have been installed with TOPCAT (it depends on some non-Java, i.e. platform-specific code). There is currently no fallback spectrum viewer, so if JNIAST is not present, then spectra cannot be displayed. In this case it will not be possible to select the Display Named Spectrum item in the Activation Window. An example of SPLAT display of multiple spectra is shown below.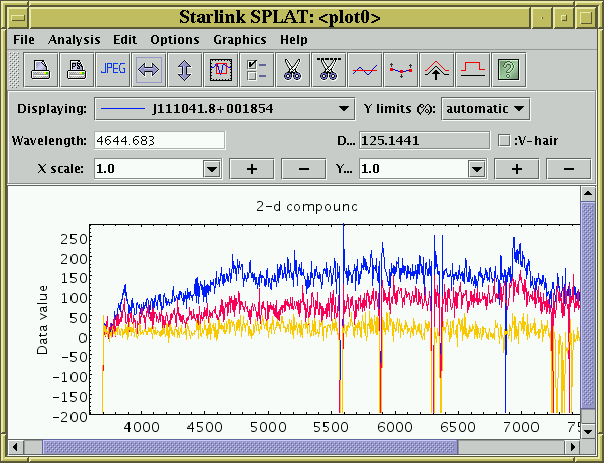 SPLAT Spectrum Viewer
Full documentation for SPLAT is available on-line within the program, or in SUN/243.
---
Next
Previous
Up
Contents
Next:
Web Browsers
Up:
Activation Window
Previous:
Image Viewer Applications
---
TOPCAT - Tool for OPerations on Catalogues And Tables
Starlink User Note253
TOPCAT web page: http://www.starlink.ac.uk/topcat/
Author email: m.b.taylor@bristol.ac.uk
Mailing list: topcat-user@jiscmail.ac.uk