---
Next
Previous
Up
Contents
Next:
Simple Image Access (SIA) Query
Up:
VO Data Access Windows
Previous:
Multiple Positional Search Panel
---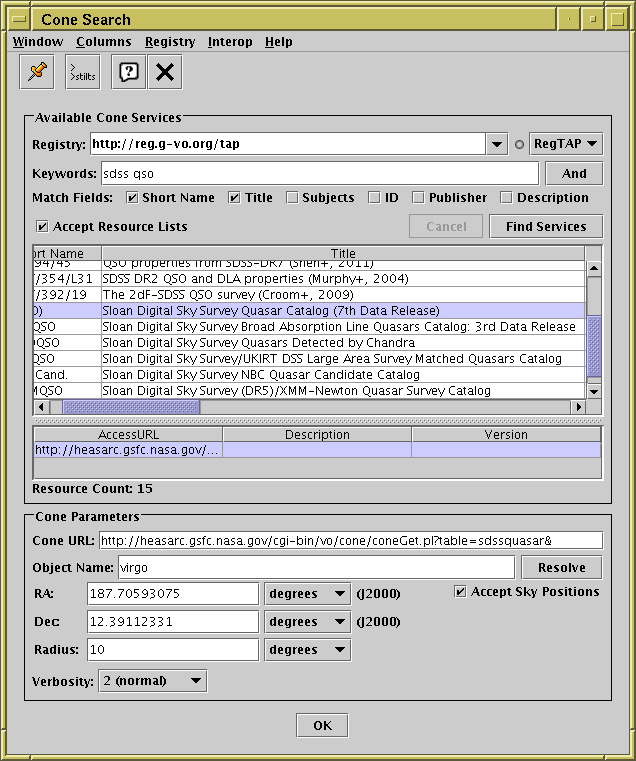 Cone table load dialogue
The cone search load dialogue can be opened using the Cone Search button (

) from the Load Window's toolbar or the Control Window's VO menu. It allows you to query one of a number of external web services for objects from a given catalogue in a given region of the sky. Data held by cone search services are effectively source catalogues with sky position columns.
The window consists of a Registry Query Panel at the top, and a Single Positional Search Panel below.
The search panel includes a Verbosity selector as well as the normal features: this allows you to choose options for how many columns will appear in the output table, from 1 (minimum) to 3 (maximum). Some services will take notice of this parameter and return narrower or wider tables respectively, and others will ignore it.
---
Next
Previous
Up
Contents
Next:
Simple Image Access (SIA) Query
Up:
VO Data Access Windows
Previous:
Multiple Positional Search Panel
---
TOPCAT - Tool for OPerations on Catalogues And Tables
Starlink User Note253
TOPCAT web page: http://www.starlink.ac.uk/topcat/
Author email: m.b.taylor@bristol.ac.uk
Mailing list: topcat-user@jiscmail.ac.uk