---
Next
Previous
Up
Contents
Next:
System Browser
Up:
Destination Panel
Previous:
Enter Location
---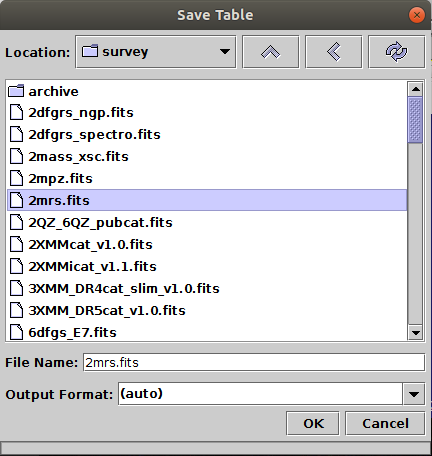 Filestore Browser for table saving
By clicking the Browse Filestore button in the Save Table window, you can obtain a browser which will display the files in a given directory.
The browser initially displays the current directory, but this can be changed by typing a new directory into the File Name field, or moving up the directory hierarchy using the selector box at the top, or navigating the file system by clicking the up-directory button or double-clicking on displayed directories. The initial default directory can be changed by setting the user.dir system property.
The browser can display files in remote filestores such as on MySpace or SRB servers; see the section on the load filestore browser (Appendix A.6.1) for details.
To save to an existing file, select the file name and click the OK button at the bottom; this will overwrite that file. To save to a new file, type it into the File Name field; this will save the table under that name into the directory which is displayed. You can (re)set the format in which the file will be written using the Output Format selector box on the right (see Appendix A.7.2 for discussion of this selector).
---
Next
Previous
Up
Contents
Next:
System Browser
Up:
Destination Panel
Previous:
Enter Location
---
TOPCAT - Tool for OPerations on Catalogues And Tables
Starlink User Note253
TOPCAT web page: http://www.starlink.ac.uk/topcat/
Author email: m.b.taylor@bristol.ac.uk
Mailing list: topcat-user@jiscmail.ac.uk