---
Next
Previous
Up
Contents
Next:
Plot Zones
Up:
Plot Windows
Previous:
Corner Axes Control
---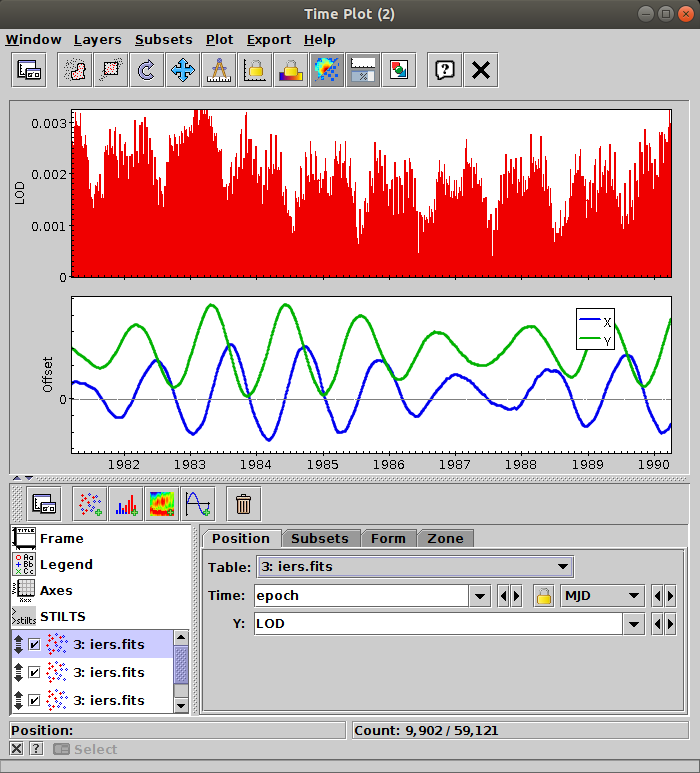 Time Plot Window
The Time Plot (

) is intended for plotting time series data.
The horizontal axis represents time, and can be labelled accordingly (for instance in minutes, hours, days, months and years), and the window can display appropriate types of plot including spectrograms.
To define the time coordinate, use the Time selector in position tabs as usual. Note however that this contains a time format selector on the right hand side that indicates how the selected quantity will be interpreted as a time value. The options are:
DecYear: Years since 0AD
MJD: Modified Julian Date (days since 17 Nov 1858)
JD: Julian Day (days since 1 Jan 4713 BC)
Unix: Seconds since midnight 1 Jan 1970
Iso8601: ISO 8601 date-time string
If the input table contains suitable metadata, for instance in a CDF file or a TIMESYS-bearing VOTable 1.4, additional options may be available that are taken from information in the table. TOPCAT will make a guess at the correct format to use, but if it gets it wrong you can set the format selector manually. The format selector is updated to the best guess when you choose a new Time value; if you want to stop it doing that, use the Lock button (

).

Unlike the other plot windows (at time of writing) the Time plot can display different data plots in different plot Zones stacked vertically on top of each other, so that different plots share a time axis but have their own Y axis. Note: This multi-zone feature is somewhat experimental, and the user interface may change in future versions.

The Time Plot offers the following plot controls:

As well as the standard actions, this window additionally provides the following toolbar button:

See the Window Overview for features common to all plotting windows. The following subsections describe zones, navigation and axis configuration.
---
Next
Previous
Up
Contents
Next:
Plot Zones
Up:
Plot Windows
Previous:
Corner Axes Control
---
TOPCAT - Tool for OPerations on Catalogues And Tables
Starlink User Note253
TOPCAT web page: http://www.starlink.ac.uk/topcat/
Author email: m.b.taylor@bristol.ac.uk
Mailing list: topcat-user@jiscmail.ac.uk